Chairman & CEO
We offer wealth management services to affluent Clients who seek guidance in aligning their financial and personal/family goals to achieve financial freedom and the peace of mind that comes with it. As an independent fee-based wealth management firm, we create and manage customized equity and fixed income portfolios for financially successful individuals and their families. In addition, we develop and maintain comprehensive financial plans to give Clients a strategic roadmap for their future. We also work closely with a team of experts to help Clients have ready access to counsel in such areas as risk management, estate planning and tax planning.
Each investor is different. You bring a unique set of needs and circumstances as you pursue management of your funds. In addition to growing your assets, you may need to obtain tax-efficient returns, to preserve principal, or to transfer wealth to future generations. As a successful individual, you may find that you do not have the experience, training, or time to manage your own investments. We work with our Clients to understand their varying needs and customize solutions to meet their goals.
The firm seeks to minimize risk with a disciplined investment process that emphasizes fundamental research and strict valuation guidelines. Consideration of a Client's investment objectives and risk tolerances is paramount, and the firm structures each portfolio to meet the Client's distinct investment guidelines. We do not simply pick and choose stocks or bonds based on market price fluctuations; nor do we try to time the market. Rather, we follow a discipline of staying invested and diversified so Clients can take advantage of time in the market, instead of relying on timing the market.
We believe that we have a covenant with our Clients to help them achieve their most important lifetime financial goals—it is one that we honor and strive daily to merit through an objective and prudent approach.
We invite you to learn more about our unique approach to wealth management and our investment philosophy on the creation and preservation of wealth for our Clients.
Sincerely,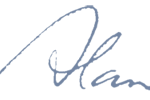 Alan N. Culbertson
Chairman and CEO