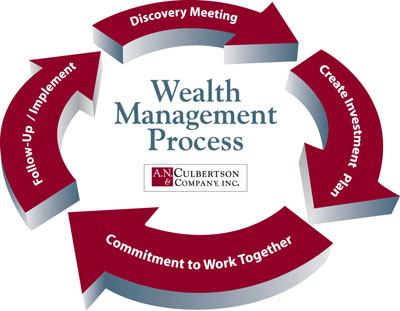 HOW WE WORK WITH CLIENTS
Our process is grounded in our ability to fully understand the client's needs and knowing their most important financial goals, challenges and values. This consultative approach is our framework for building and managing a long-term wealth management relationship with our clients.
The Discovery Meeting
Our first meeting is designed for us to learn about your goals, values, assets, interests, important family relationships and how involved you like to be in the overall wealth management process. You will be asked to bring information to this meeting that helps us assess your overall financial situation. There will be plenty of time during this meeting for you to help us better understand you.
The Investment Plan Statement
Two weeks after the Discovery meeting we will present an investment plan to you that incorporates the information we have gathered during your Discovery meeting. We will explain the recommended asset allocation plan that we feel is appropriate for you.   This meeting usually lasts for an hour. We will not ask you to make a commitment to retain us at this time, but rather to get back to us in about a week after you have had time to consider the relationship and think about the investment plan and our firm.
Mutual Commitment Meeting
If you wish to retain us and we wish to work with you, then it will be at our third meeting that we commit to working together. We will then begin the necessary paperwork to retain our firm and to open accounts and transfer them to the broker we use for custody services.
Regular Progress Meetings
We will encourage you to come back and meet with us about 45 days after beginning our work together, and then on a periodic schedule that gives you comfort. Life is not predictable and neither are your finances. We will make adjustments where necessary to help you meet your goals.
The Wealth Management Plan
We will engage our outside experts as needed to create solutions for any challenges you might have in areas such as tax, legal, insurance, charitable gifting or other matters relating to your overall financial affairs.
We are always available to discuss this process. Please feel free to contact us anytime.
You can view/download the A.N. Culbertson CRS Form here (PDF).